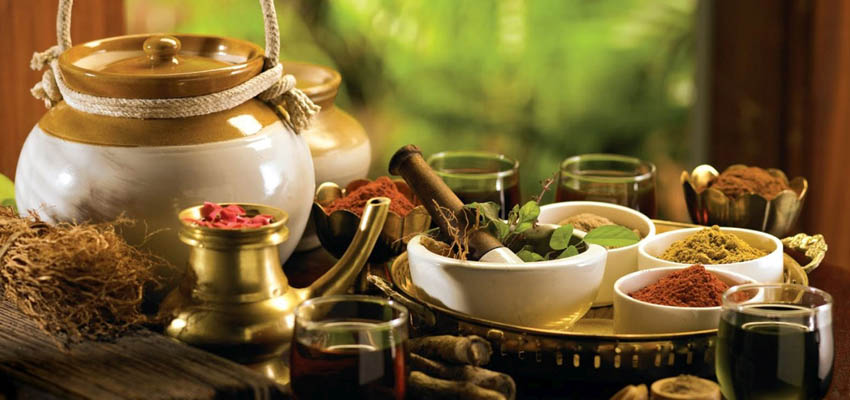 Science of Ayurveda
Every year, more and more people are turning to alternative health practitioners to work on their overall well-being, if you are not finding all of the answers you need from traditional medicine, we can discuss the many other options that are available to you to treat yourself and get a happy and healthier life.
Ayurveda originated more than 5000 years ago and is the oldest Indian practiced health care system in the world. Ayurveda has understanding of nature's rhythms and laws. Ayurveda is built around the 5 elements, ether, air, fire, water, and earth and balancing them through right way of living life. It is a system of medicine that removes the imbalance of the physical body, while providing the mental clarity and balance needed to change unproductive mindsets. Ayurveda helps you to discover your real personality type- your own unique combination of Doshas, and uncover the hidden cause of all your physical and mental discomforts.
According Ayurveda, Food acts as medicine to maintain our good health. It is said, "whatever you eat you are". Food provide nutrition to our body But when we do not eat right food and do not provide right nutrition. We get all kind of wrong information in our body. Problems like overweight and so many disease attacks. How we can change our bad habits? It is good to practice mindful eating to get health benefits. We will discover ways to make exercising and good food eating more fun for you. If you enjoy it, you will be more likely to make it a priority in your life.
LEARN ABOUT YOUR NATURE TO UNDERSTAND WHY YOU FACE CERTAIN PROBLEMS IN YOUR LIFE AS WELL AS HOW TO RECTIFY YOUR PERSONAL IMBLANCE THROUGH NATURAL WAYS. THIS PRACTICE CAN BE UTILIZED TO ENHANCE YOUR HEALTH, CREATIVITY & OVERALL PERSONAL GROWTH.
Spiritual Guidance for Self-acknowledgement
Inner transformations are happening to people all over the planet. Find out if you are one of those. A spiritual awakening is a newfound awareness of a spiritual reality.
Do you feel sudden change in your energy level? Are you unsatisfied with your current life and/or the outside world? It's quite possible you are undergoing, or might soon experience spiritual awakening. Spiritual awakening can be gradual or rapid, and it can mean different things to different people. We are born soul, beyond with this physical body we have personality, feelings, thoughts, quest to know, morals, values and beyond human nature there is more to know. We grow each and every movement, we experience growth or we experience hindrances and obstacles.
Some Signs of Awakening
Are you experiencing deep sadness or compassion about the suffering in the world? Feeling the need to make this world a better place or a deep yearning for meaning in your life? Are you experiencing hypersensitivity, too much creativity and a decrease in inspiration?
» Do you have willingness to know who you truly are and want to be finally yourself?
» Do you feel increasing in intuitions and desire to connect with inner self, there is an increase in willingness to love and give without expectations, feeling of being connected to everything and everyone like humans, animals, nature, planet, universe. These are the signs of inner awakening.
What will you get
I WILL BE COACHING YOU & HELPING, CREATING BALANCE AND HARMONEY IN YOUR LIFE THROUGH UNDERSTANDING THE NATURE OF HUMAN SOUL, HOW TO GET ALIGNMENT WITH YOUR REAL NATURE AND REALIZE THAT THE ULTIMATE SOURCE OF CREARTION RESIDES WITHIN YOU. I WILL ASSIST YOU IN FINDING WHAT YOU ARE SEEKING YOU ARE THAT ALREADY.
Reiki Science of Self-Healing
Reiki, an ancient technique for stress reduction and relaxation has been integrated into many healthcare settings, including hospitals. And overlapping data from some of the more scientifically valid studies on Reiki suggest that this complementary therapy may play some role in reducing anxiety and fears, inducing relaxation, improving depressions and helping relieve the stress symptoms. It is administered by "laying on hands" and is based on the idea that an unseen "life force energy" flows through us and is what causes us to be alive. So Reiki is actually "spiritually guided life force energy."
What will you get
IF YOU WOULD LIKE TO LEARN ABOUT REIKI FOR SELF HEALING, I CAN HELP YOU TO UNDERSTAN BASIC PRINCIPLE OF REIKI SO YOU CAN LEARN TO HEAL YOURSELF DAILY. REIKI IS A BEAUTIFULL GENTLE FORM OF HEALING THAT USES UNIVERSAL LIFE FORCE ENERGY TO REMOVE BLOCKS CAUSED BY PHYSICAL, EMOTINAL, MENTAL, SPIRITUAL DISTRESS, ONCE BLOCKS ARE REMOVED THAN BODY HEALS NATURALLY.
"Pray, Meditate Be aware/Stay awake, Bow, Practice yoga, Feel, Chant and sing, Breathe and smile, Relax/Enjoy/Laugh/Play, Create/Envision, Let Go/Forgive/Accept, Walk/Exercise/Move, Work/Serve/Contribute, Listen/Learn/Enquire, Consider/Reflect Cultivate, oneself/enhance competencies, Cultivate contentment Cultivate flexibility Cultivate friendship and collaboration Lighten up, Celebrate and appreciate, Dream, Give thanks, Evolve, Love, Share/Give/Receive, Walk softly/Live gently, Expand/Radiate/Dissolve, Simplify Surrender/Trust Be born anew."- From Awakening The Buddha Within by Lama Surya Das