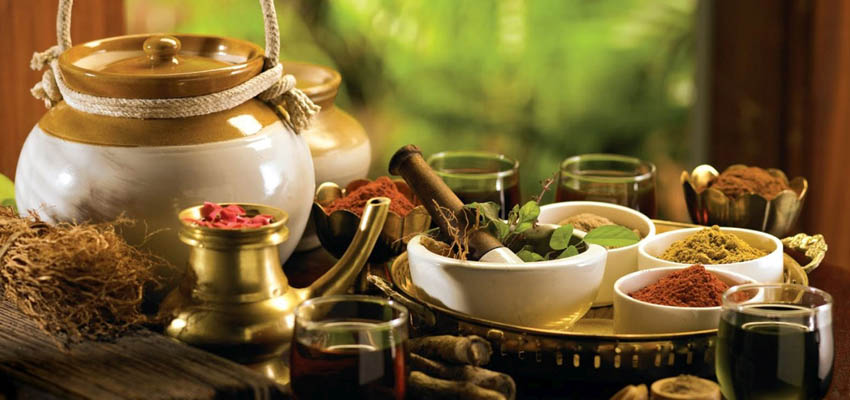 Every year, more and more people are turning to alternative health practitioners to work on their overall well-being. Gone are the days where we rely on our medical doctors to help us with every aspect of our health care. If you are not finding all of the answers you need from traditional medicine, we can discuss the many other options that are available to you to treat yourself and get a happy and healthier life.
Ayurveda Ayurveda originated more than 5000 years ago and is the oldest Indian practiced health care system in the world. Ayurveda has understanding of nature's rhythms and laws. Ayurveda is built around the 5 elements, ether, air, fire, water, and earth and balancing them through right way of living life. It is a system of medicine that removes the imbalance of the physical body, while providing the mental clarity and balance needed to change unproductive mindsets. Ayurveda helps you to discover your real personality type- your own unique combination of Doshas. And uncover the hidden cause of all your physical and mental discomforts.
Learn about your nature to understand why you face certain problems in your life as well as how to rectify your 'Personal Imbalance' through natural ways. This practice can be utilized to enhance your relationships, wealth, creativity, and personal growth, etc. also learn how you can use this unique discovery to look even better, get healthier and live a much happier life!
Food & Fitness Awareness I have spent many years studying what is healthy way of living and the role it plays in our overall health and body energy levels. Whether your goal is to lose weight, get understanding of the relationship between your food choices and the results on your health. This is not about dieting only; it is about a new way of understanding your ways of being. Any exercise plays a big role in a health program. I will help you to understand the importance of physical fitness to your overall health. If you always find reasons to put off starting an exercise routine or can't seem to find the time in your schedule to do it, we together can work on a plan for you.
Our health/ fitness is directly affected by the purity or impurity of food. Food acts as medicine to maintain our good health. It is said, "whatever you eat you are". Food provide nutrition to our body that helps us to stay healthy. But when we eat too much or do not eat right food and do not provide right nutrition. We get all kind of wrong information in our body. Problems like overweight and so many disease attacks. How we can change our bad habits? It is good to practice mindful eating to get health benefits.
We will discover ways to make exercising and good food eating more fun for you. If you enjoy it, you will be more likely to make it a priority in your life. As your life coach I would like to create a food and fitness program that fits you.
"We must become the change we want to see." - Mahatma Gandhi